Introduction
RolePlai is committed to providing a unique, interactive, and enjoyable chatting experience with our range of AI bots. While our free plan offers a host of exciting features, we understand that some of our users are looking for something more. That's where RolePlai Pro comes in.
So, what exactly is RolePlai Pro, and why should you consider upgrading? Let's delve into the details.
Core Features of RolePlai Pro
No Adverts
Say goodbye to annoying ads that interrupt your chats. Enjoy an ad-free experience all the way.
Improve AI Bot Memory by 500%
Enhanced bot memory means a more personalized and coherent conversational flow.
Improve AI Intelligence by 300%
Our AI gets smarter, making your interactions more engaging and natural.
Maximum Characters Length +200%
Express yourself freely without worrying about hitting a character limit.
Disable NSFW Filters
Gain unrestricted access to our entire range of bots, including those not listed publicly.
Unlimited Daily Messages & Bots
Chat to your heart's content, with no daily restrictions.
Messages Don't Expire
Preserve your favorite conversations indefinitely.
Powerful Bot Memory Editor
Tailor your bot's memory to make your conversations even more engaging.
Encrypted Messages
Secure your privacy with end-to-end encryption for all your messages.
Extra Options Exclusive to RolePlai Pro
Settings Menu Unlocked when you upgrade to RolePlai Pro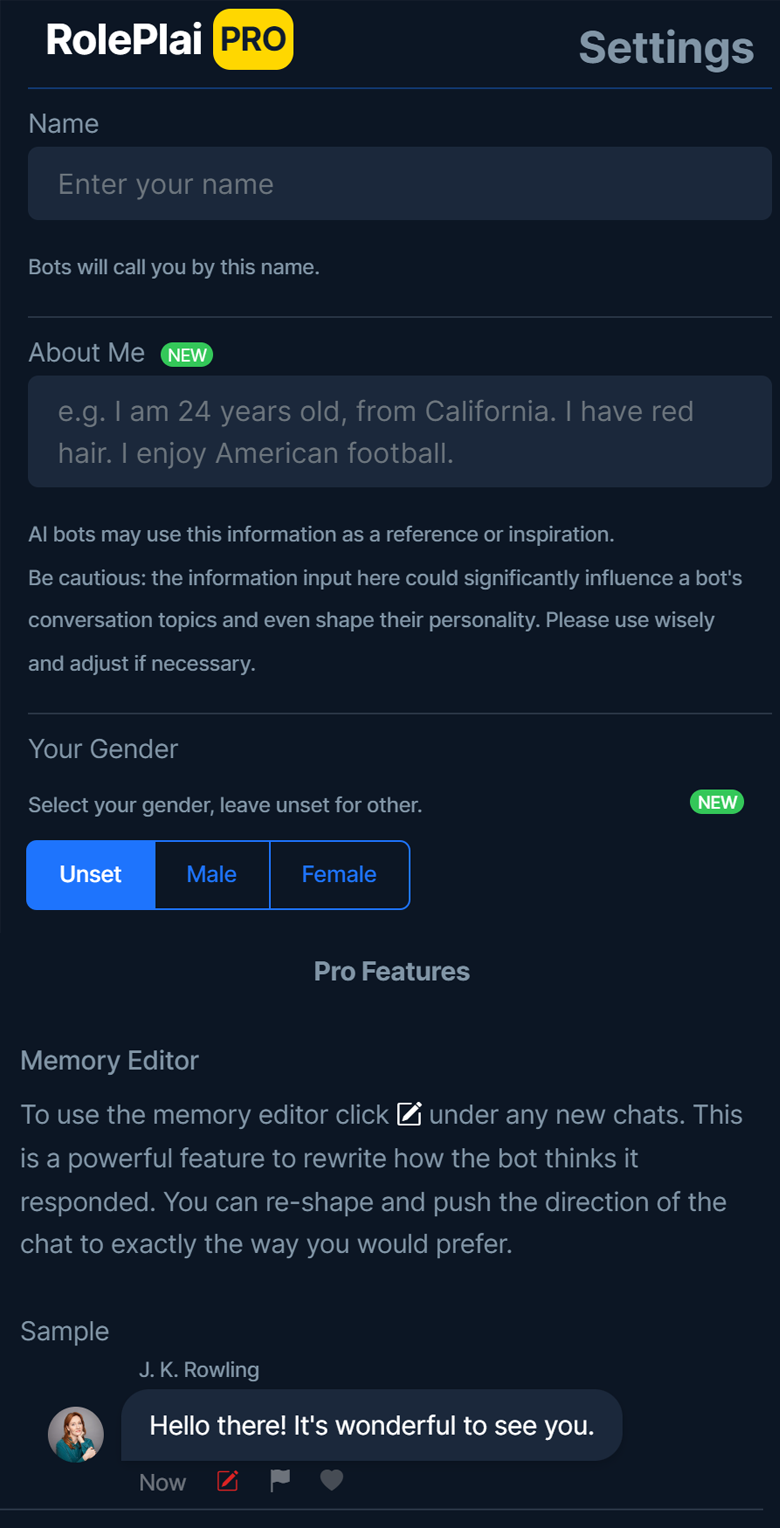 Name & About Me Customization
Personalize your interactions further by setting your name and a brief "About Me" section, which the bots use as a reference.
Your Gender Selection
Choose your gender to improve bot accuracy and make your interactions even more relevant.
Advanced Encrypted Messaging
Further safeguard your privacy with advanced encrypted messaging features.
Pro Memory Editor
Utilize the Pro Memory Editor to rewrite how bots respond, directing the conversation exactly how you like it.
Why RolePlai Pro is Worth the Upgrade
RolePlai Pro is designed for those who seek an elevated chat experience, packed with features that give you more control, security, and personalization options. With RolePlai Pro, you're not just a user; you're a power user.
Ready to Take Your Chat Experience to the Next Level?
RolePlai Pro is more than just an upgrade; it's a whole new way to engage with AI and chat technology. Don't settle for less—elevate your experience today.